Whenever I make these cookies, I always find myself eating way too many at once.  They're a bit like those potato chips in the commercials … no one can eat just one.
Debi's Lemon Squares
Ingredients:
1 cup flour
1/4 cup powdered sugar
1/2 cup butter (not margarine)
2 eggs, well beaten
2 Tbsp lemon juice
1 cup sugar
2 Tbsp flour
1/2 tsp baking powder
powdered sugar for sprinkling over top
Instructions:
Combine 1 cup flour, powdered sugar, and butter to form a dough.
Press into a 9×9-inch pan and bake at 350 degrees for 15 minutes.
In a medium bowl, beat together eggs, lemon juice, sugar, 2 Tbsp flour, and baking powder.
Pour lemon/egg mixture over the baked crust.  Spread evenly.
Return to oven for 20 minutes.
Remove from oven, sprinkle with powdered sugar, and allow to cool.
Cut into squares.
Yum!  8)
ABOUT THE AUTHOR:
Deborah Taylor-Hough is the mother of three grown and nearly grown kids still at home, a full-time college student, a displaced homemaker trying to make ends meet on a limited budget, and the author of several older (but still in print) books including the popular Frozen Assets cookbook series.  You can visit Debi online at:  http://www.theSimpleMom.com
---
Browse My Books: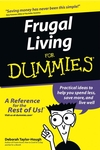 Easy link for Amazon Shoppers