Introduction to Frozen Assets
Following the premature birth of our first child, a group of ladies from church filled our freezer with two weeks of frozen meals. Since then, I've applied this concept to our regular family meals. I save substantial time, effort and money in the process.
"Help!  My Freezer's Too Small!"
One of the most common concerns I hear about preparing meals for the freezer is this: "I only have the small freezer above my refrigerator — how can I still do a full month of cooking ahead?"
So, you're ready to give cooking for the freezer a try.  Great!  But what on earth do you store all this good food in? You certainly don't want to have your food suffer from a bad case of freezer burn … and you also don't want to break your budget stocking up on expensive freezer boxes.
The idea of cooking a month's worth of meals to store ahead in the freezer is becoming increasingly popular in this modern world of two incomes, daycare, sports, skyrocketing costs, and busy families.
Getting Started Cooking for the Freezer
The concept of cooking a month's worth of meals ahead of time to store in the freezer revolutionized the way I feed my family. I adapted the techniques using my own inexpensive recipes — and we've been saving time, money and sanity(!) ever since.
These lists should give you a good start at identifying potential freezing problems with various food items.
Does the thought of preparing 30+ meals by yourself sound like a lonely way to spend the day? Why not share the job with a friend? Not only is it fun, you can also share cooking utensils, pots and pans, recipes, and cooking know-how.
If you know a group of people experienced in freezer-meal cooking, you can arrange for a group meal exchange.
A couple of quick ideas to throw in the freezer to keep on hand for a busy day.
Meatball Mania!  A Simple Mealtime Solution
Cooking up a large batch of meatballs in advance to store in the freezer goes a long way toward establishing a supply of quick and easy meals.  And if you take advantage of sales on ground beef and stock up, this can be a tremendous boon to your family budget too!
---
Browse My Books: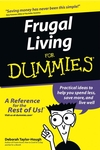 Easy link for Amazon Shoppers